AIR SAMPLING PUMPS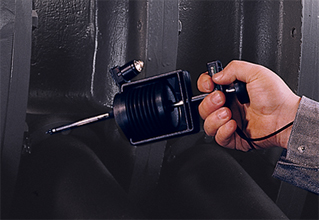 Kwik-Draw® Pumps are designed for one-hand operation and consistent delivery of a sample draw volume of 100 milliliters (ml). The pumps are constructed with a shaft-guided compression system for more consistent and replicable flow rate and volume per stroke than may be available with hand-guided pumps.
KWIK-DRAW® DETECTOR TUBE PUMP
Part No : D5146761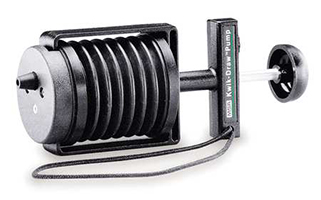 Kwik-Draw Pumps allow detection of gases and vapors with the squeeze of a handle. To obtain a precise (100 ml) sample volume, the user simply grasps the hand grip and pushes the knob. The pump's compression system provides the guiding action to drive a spring-loaded bellows pump.
An integral, easy-to-read stroke counter shows the exact number of strokes performed and provides a positive stop when the stroke is fully compressed.
KWIK-DRAW® DELUXE DETECTOR TUBE PUMP
Part No : D5146762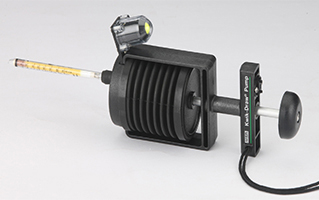 A second model, the Kwik-Draw Deluxe Pump, has a unique end-of-stroke indicator that "winks" after the precise volume of air is drawn, confirming that enough air has been sampled for a successful reading.
TOXIMETER™ II AUTOMATIC DETECTOR TUBE PUMP
Part No : D5142705



The Toximeter II Automatic Detector Tube Pump makes the sampling process easier, allowing the user to preset the number of pump strokes (from 1 to 250 pump strokes).

Intrinsically safe, the automatic pump works with all KWIK-DRAW™detector tubes. It can also be used as a sampling pump.
GAS-TESTER™II H DETECTOR TUBE PUMP
Part No : D5146760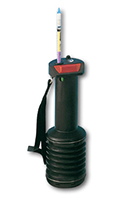 The Gas-Tester II H Pump is set for action by compressing the bellows. A pump stroke is started by pressing the release button. When the sample (100ml) is drawn through the tube, the end-of-stroke indicator changes color. An accurate measurement is obtained because the sample draw procedure itself is controlled only by the specifications of the pump and the flow resistance of the detector tube.
GAS TESTER® I DETECTOR TUBE PUMP / THUMBPUMP ™
Part No : D5140904

An easy and low cost pump that can be used with one hand, by pressing the rubber bulb with only your thumb. In this way, a 100ml of air is drawn through the tube.